"
My wife and I both commute by bike downtown. If we want to create a long-term solution to traffic congestion in Seattle, encouraging pedestrian and bicycle transportation is vital, and bike infrastructure is essential."  —Apu Mishra We're excited to share some big news with you: Thanks to your support, the city will build the most important east-west bike route in Seattle next year—protected bike lanes on Pike/Pine, connecting downtown to Capitol Hill. While we saved this one piece of the Basic Bike Network, the rest is still in jeopardy. Help us keep the momentum going so that we can connect every neighborhood with safe, comfortable walking and biking routes.
(More exciting news: Your gift today will go three times as far! Find out about our incredible 2-to-1 match below.) This kind of victory for safe streets doesn't just happen on its own. It takes public pressure of all kinds. The city was considering delaying this critical connection, but supporters like you who advocated, donated to support our work, or cheered us on, saved it. Speaking of which, don't miss this short video of Seattle's first ever people-protected bike lane—one of many strategies we used to help make this win possible: https://player.vimeo.com/video/272098465 We still have a long way to go to make every neighborhood a great place to walk, bike, and live. It won't be easy; every walking and biking improvement requires going up against powerful forces working to protect the status quo. But together, we are up to this challenge.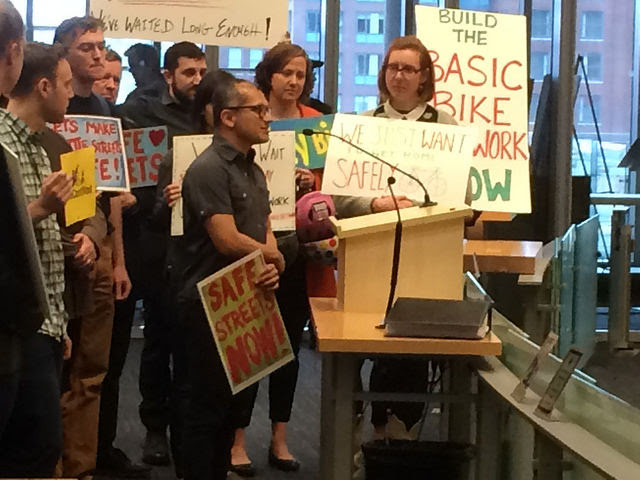 Apu Mishra, a Seattle Neighborhood Greenways volunteer with the Beacon Hill Safe Streets group, spoke up at City Hall for safer access to walking and biking on Seattle's streets.  And that's why Seattle Neighborhood Greenways' Board of Directors and the local Bowline Fund have boldly stepped up to match your gift 2-to-1, up to $30,000, as we head into our busiest season of city-wide organizing yet. Please make your gift by

June 30, 2018

to triple your gift and your impact. We simply can't do this work without you.
When you contribute to Seattle Neighborhood Greenways, you're helping accelerate safe streets solutions. Your support makes it possible for us to:
Organize for a bike network that connects to every neighborhood
Champion safe routes for kids to walk and bike to school
Advocate for walking and biking projects with historically underserved communities
Work for safe routes to walk and bike to transit hubs
Thank you for your support of Seattle Neighborhood Greenways. Let's build a safe, accessible, and equitable Seattle for all. Sincerely, -Gordon
Gordon Padelford  Executive Director P.S. Please make your generous gift by

June 30, 2018

, to have your gift matched two-to-one; every amount truly helps! Together, we can make Seattle a great place to walk, bike, and live.
Seattle Neighborhood Greenways 220 2nd Ave S #100 Seattle, WA 98144 Facebook  | Twitter | Instagram Curious about the Bowline Fund? The Bowline Fund has provided ongoing support to Seattle Neighborhood Greenways since its inception. The Bowline Fund seeks to transform Seattle's streets, sidewalks, and parking into places centered on people rather than cars.